Weekly Challenges
Weekly Challenges are in-game objectives that reward you with Club XP, in-game currency, and limited time prizes. Challenges are renewed every week.
Make sure to manually add Weekly Challenges to the Ubisoft Club (on either mobile, console or pc) before starting one.
Don't forget to collect your prize!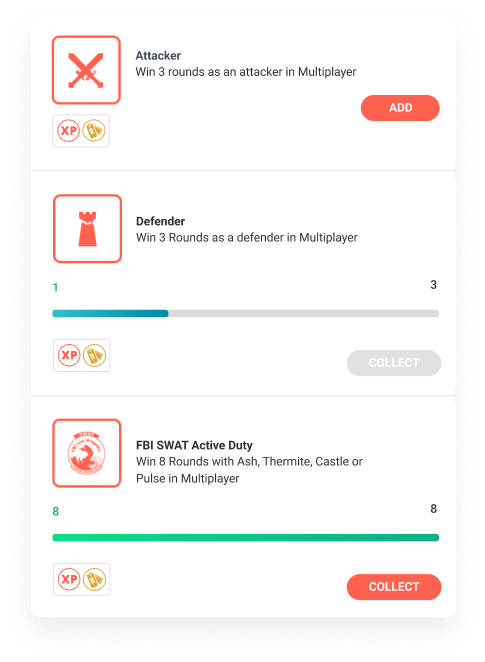 Renowns

Rainbow Six® Siege
Special Challenges
Special Events
Halloween, Christmas, Valkyrie's Birthday...
Club events are a great way to extend your gameplay! Enjoy free limited-time prizes for your games with Ubisoft Club's Special Events Challenges.
*Special Events are currently available on Rainbow Six® Siege, Far Cry® 5, WATCH_DOGS® 2 and STEEP™.
Community Challenges
Join the gaming community in beating common objectives with the Ubisoft Club Community Challenges. Once that target is met, a prize will be unlocked and granted to everyone who took part.
Community Challenges are currently only available on Far Cry® 5, Assassin's Creed® Origins and STEEP™.
Classic Challenges
You can complete Classic Challenges at any time, they are available in numerous Ubisoft games.
It's an easy way to earn Units, Club XP and Badges in the Ubisoft Club.
Units
Use your Units to get exclusive Rewards for your game. Or get a Discount on your next Ubisoft Store purchase.
Club XP
Earn Club XP to level up in the Ubisoft Club. Complete as many Challenges as you can to stay on top of the Club's Leaderboard for your game.
Badges
Once you've unlocked a Badge, go to your Ubisoft Club account to uncover it and pin it on your profile.