Sam knows...
Your Games, Stats, Profile.
What's the latest news for Tom Clancy's The Division 2®?
How to get the Rainbow Six Twitch Drop charm?
And even your fate with digital Fortune Cookies (with zero calories!).
Just ask Sam!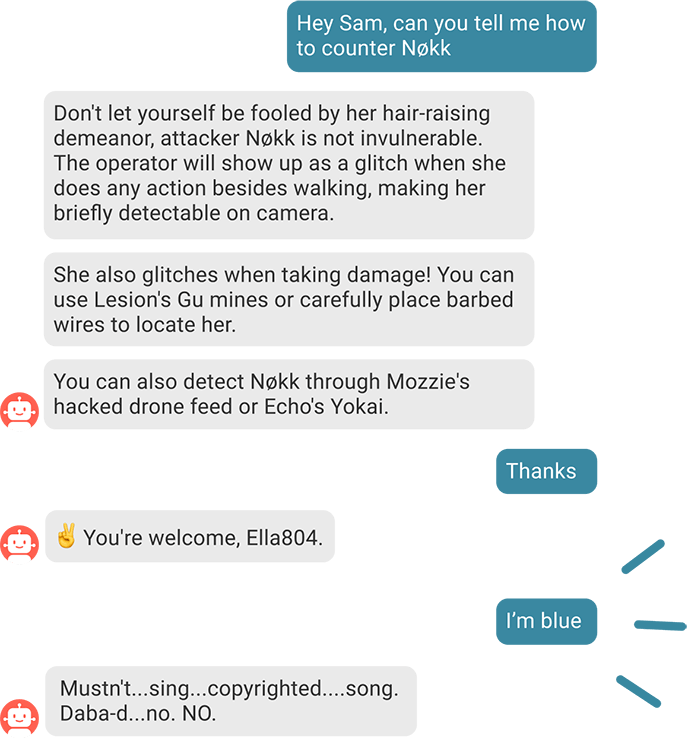 Daily Login
Start playing to receive personalized tips.
1.
Stats
As you play, Sam will check your game stats and highlight your best performances in each Daily Login.
Available on: Rainbow Six® Siege, Assassin's Creed® Odyssey, Tom Clancy's The Division™, Far Cry® 5, Ghost Recon® Wildlands and Tom Clancy's The Division 2® and Ghost Recon® Breakpoint
2.
Club
Receive daily reminders of Challenges you haven't completed yet and cool Rewards you can get with your Units.
3.
Advice
Last, but not least, Sam will analyze your play patterns to find which areas of your games are harder to master. Get daily tips and tricks straight from the community so you can hone your skills.
Press "F" to feed Sam!
Streamers, Youtubers, Cosplayers, Artists, share your awesomeness with us!
Sam likes to know what's up in the community and loves to share it back.
Share with us content you think Sam should add to its already impressive database.
Share the love!
You're already dreaming of Sam 2.0? Tell us more!
Brainstorm!
Tell us about the bug you found, our Dev team will review this forum on a weekly basis.
Bugs? Let us know!